Handlink
Talk

2
338pages on
this wiki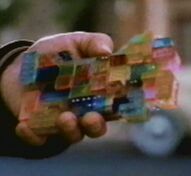 The Handlink is a device used to open and close the Imaging Chamber door, give info from Ziggy to the Observer while in the chamber, move the hologram image, and make all kinds of holographic effects.
There were at least two versions of the Handlink during the running of Quantum Leap. The first version, introduced in the first episode of the series, "Genesis", was flat, was about 1/4 inch thick, seemed made of translucent black plastic, had black data screens, and had a few buttons. The second version, first seen in "The Right Hand of God", is thicker, made fully of black plastic, has more screens or lights, and more bright buttons. It had silver strips at top and bottom and red flashing graph like bars lights near the center. The third version, first seen in "Honeymoon Express" was bulkier, and made up of several colorful cubes.
The Handlink is carried mostly by Al, since he is the Observer. However, it has been used by Sam in the episode "*The Leap Back", Gooshie in the episode, "*Killin' Time", and Edward St John V when Al's fate changed temporarily in the episode "A Leap For Lisa".
Despite being a sophisticated piece of future technology, the Handlink rarely worked properly unless it was jostled or struck by Al. When it was struck, it frequently made a sound similar to a cry of distress.
Evil Hologram Zoe also carried a handlink. Though hers was far slimmer and more compact than Al's, an obvious shout out to "girl power" over the clunky, masculine "Al-Link."
One Handlink was left in Crown Point, Indiana in the year 1945 during "The Leap Back". When Al and Sam switched places, the Handlink traveled and stayed with Al, who was the Leaper. Sam got a new Handlink as an Observer to Al. When they switched places again, the Handlink Al was carrying was left in the leap place. It is unknown what it's current status is. It was last seen being given to Suzanne Elsinga by Sam.
Appearances
Edit
Almost all the Quantum Leap episodes.