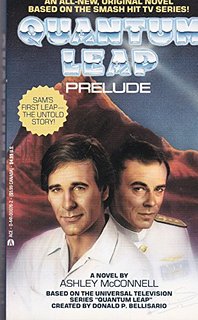 SAM'S FIRST LEAP -- THE UNTOLD STORY!
A Novel by Ashley McConnell
(From the back cover)
"Here's how it all began! Dr. Sam Beckett wasn't always a leaper, and Admiral Al Calavicci wasn't always a holographic image. In 1993, at Stallion's Gate, New Mexico, Sam and Al were ordinary men with extraordinary ambitions...
Project Quantum Leap was only a dream.
What was the secret that made Ziggy much more than a machine? Why did Sam really want to travel in time? Where was Al that fateful winter night? And who almost destroyed the dream before it began?
The answers are just a Leap away...
QUANTUM LEAP
PRELUDE
An all new adventure -- First Time in Print!"
Based on the Universal television series "Quantum Leap"
Created by Donald P. Bellisario
Leap Date Edit
Through various little hints and clues, the date of Sam's first leap has been determined to be 1995 (seven years after our present, since Quantum Leap premiered in the spring of 1989). This date was confirmed in the fifth season episode, "Killin' Time." Al's "present" tended to jump around a bit during the course of the series. Through arithmetic or direct statements, it was 1997 in the third season finale, then 1999 for the fourth season opener. Then in the fifth season opener, the date was given as a few months *before* the fourth season opener, with references to events from the fourth season.
All time periods of note: Summer, 1990 Spring, 1993 Spring, 1995
Publication Information Edit
247 Pages
30 Chapters
June 1994
Book 4
This book serves as a prequel to the televisions series and a sequel of sorts to the second book in this series, Too Close for comfort.
Leap Back to the Main Book List
Edit
Ad blocker interference detected!
Wikia is a free-to-use site that makes money from advertising. We have a modified experience for viewers using ad blockers

Wikia is not accessible if you've made further modifications. Remove the custom ad blocker rule(s) and the page will load as expected.