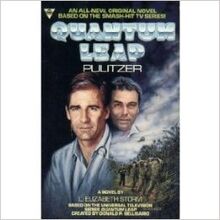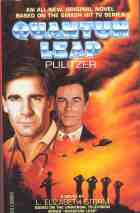 (From the back cover)
A LEAP FOR AN UNKNOWN SOLDIER
Maryland, 1975. Sam has leaped into a psychiatrist at Bethesda Naval Hospital. A newly released POW just off the plane from Vietnam -- a Lieutenant John Doe -- has been admitted for psychiatric evaluation.
But when Sam walks into Doe's room for the first time, he realizes the soldier has a name to go with his face: Lieutenant Al Calavicci.
Now Sam must think fast, because some unhappy Pentagon officials have questions for Al. Questions about his imprisonment. His captors. And his reported treason against the United States of America.
QUANTUM LEAP
PULITZER
LEAP DATE  Edit
PUBLICATION INFORMATION Edit
Ace edition June 1995
Pages 338
Book 8
Lt. Albert Calavicci - POW Edit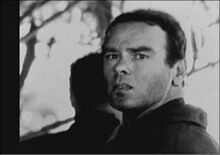 This novel in particular expands upon the concepts firmly established within the television series in regards to Al and his six year long POW event.
Leap Back to the Main Book List
Edit
Ad blocker interference detected!
Wikia is a free-to-use site that makes money from advertising. We have a modified experience for viewers using ad blockers

Wikia is not accessible if you've made further modifications. Remove the custom ad blocker rule(s) and the page will load as expected.