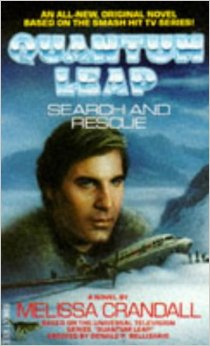 A novel by Melissa Crandall
(From the back cover)
WHEN TRAPPED BETWEEN TWO STORMS, SURVIVAL BECOMES A LEAP OF FAITH...
The thunder rolls over the desert in New Mexico, and Sam Beckett leaps into a man named Phillip Payne, a doctor involved in the search for a plane that went down in the wilds of British Columbia.
The lightning flashes -- and project observer Al Calavicci also leaps into a passenger on the plane.
Now Sam must race against time and the forces of nature for the sake of a father and daughter at bitter odds -- and for the life of his friend.
QUANTUM LEAP
SEARCH AND RESCUE
LEAP DATE Edit
PUBLICATION INFORMATION Edit
Ace edition December 1994
Pages 232
Book 6
Leap back to the main book list...
Edit
Ad blocker interference detected!
Wikia is a free-to-use site that makes money from advertising. We have a modified experience for viewers using ad blockers

Wikia is not accessible if you've made further modifications. Remove the custom ad blocker rule(s) and the page will load as expected.