The lovely Tamlyn Matsuda, played by Tamlyn Tomita in the Season 4 episode "Temptation Eyes"
Personal Information
Gender:
Female
Born:
San Francisco, California, U.S.
Character
description:
San Francisco area psychic enlisted by the SFPD to follow the case of a serial killer who has been stalking the Chinatown area, where she lives; Sam, who leaps into the body of Dylan Powell, a veteran TV news reporter who's working with she and the police, must protect her from the wiles of the killer, who seeks to make her his latest victim
Character information
Appeared on:
Quantum Leap
Character played by:
Tamlyn Tomita in TV series episode "Temptation Eyes" in Season 4
Tamlyn Matsuda was a character who appeared in the Season 4 episode of Quantum Leap TV series titled "Temptation Eyes". The character Tamlyn is played in the episode by actress Tamlyn Tomita.
About Tamlyn
Edit
In the "Temptation Eyes" episode, Sam leaps into the body of veteran television news reporter, Dylan Powell, who has been receiving tips from a serial killer (James Handy), who stalks San Francisco area. Tamlyn, a psychic, has, along with Powell, and his cameraman and sidekick Ross Tyler, have been enlisted by the SFPD to follow the case of a serial killer who has been stalking the Chinatown area, where she lives
When Sam asks her when she first realized that she was a psychic, Tamlyn reveals that she was seven years old when she had a premonition of her mother's death, Her mother, who had just returned from a trip to Santa Cruz, was murdered as she had been sleeping the night before. Apparently, her mother's death had a profound impact on her becoming a professional psychic in trying to help others.
It is Tamlyn's psychic ability combined with her falling in love with him that allows her to see past the facade of Dylan and seeing Sam as his true self. Sam falls in love with Tamlyn and reveals everything about Project Quantum Leap to her.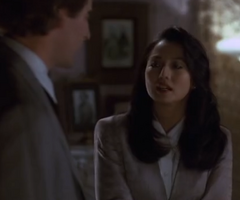 Anyhow, concerning the serial killer, he seems to keep laying clues in phone messages to the police, and the TV station where Dylan works; as Sam and Al try to pinpoint the whereabouts and the identity of the killer, whose messages they, with the help of the San Francisco PD, record, Tamlyn, not knowing the identity of the killer, is left alone to meet with him atop an office building in Chinatown. When Sam, as Dylan, arrives at the meeting point, the two, being he and the killer, which turns out to be Ross, engage in a bitter struggle, where Sam is able to wrest Tamlyn away from Ross, and also breaks free from him as he, who started the first of the killings when the TV station threatened to lay he and Dylan off before they began covering the story, which saved their jobs as it pulled in big TV ratings, leaped to his own death.
Ad blocker interference detected!
Wikia is a free-to-use site that makes money from advertising. We have a modified experience for viewers using ad blockers

Wikia is not accessible if you've made further modifications. Remove the custom ad blocker rule(s) and the page will load as expected.