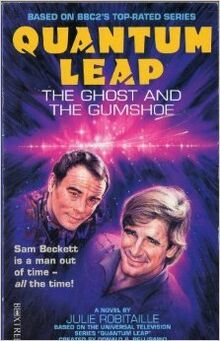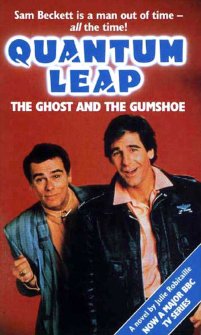 Sam Beckett
is a man out of time - ALL the time!
A novel by Julie Robitaille. Based on the Universal television series created by Donald P. Bellisario.
(From the back cover)
It is the mid- 1990s. Sam Beckett is a brilliant scientist, and the creator of the Quantum Leap project - moving back and forth through the years of your own lifetime.
After being transported back to 1956 by mistake, Sam's effort to return keep him trapped away from his own time. Not only that, but he is forced to take place of people he has never known or even heard of. Slipping constantly into one life after another, and having to right the wrongs in that life and hopefully change things for the better, Sam is a man out of time - all the time!
Adapted from the episodes " A PORTRAIT FOR TROIAN" Teleplay by Scott Shepherd and Donald P. Bellisario, Story by John Hill and Scott Shepherd and "PLAY IT AGAIN SEYMOUR" Teleplay by Scott Shepherd & Donald P. Bellisario, story by Tom Blomquist and Scott Shepherd & Donald P. Bellisario.
Leap Dates
Edit
April 14, 1953, Play it again Seymour
February 7, 1971 A Portrait for Troian
Publication Information
Edit
Published 1990
Pages 191
Chapters 19
Leap Back to the Main Book List
Edit
Ad blocker interference detected!
Wikia is a free-to-use site that makes money from advertising. We have a modified experience for viewers using ad blockers

Wikia is not accessible if you've made further modifications. Remove the custom ad blocker rule(s) and the page will load as expected.