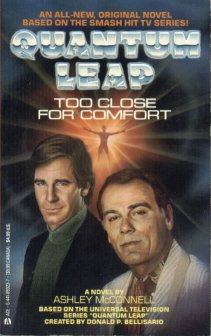 (From the back cover)
LEAPER BEWARE...THE FUTURE YOU ALTER MAY BE YOUR OWN
When Dr. Sam Beckett leaps into the middle of a men's encounter group, circa 1990, he meets... Al?
Not the holographic Al from the near-future, but a younger, soul-searching Al, beating his naked chest in a mock tribal quest for his primitive nature!
It all seems pretty funny to Sam -- except for the fact that his mission could make or break the Quantum Leap project... for ALL time.
QUANTUM LEAP
TOO CLOSE FOR COMFORT
AUTHOR'S NOTE Edit
The timing of this Leap is, of course, prior to the one recorded in the television episode "A Leap for Lisa."
Leap Date Edit
Publication Information Edit
Ace Edition April 1993
Pages 265
Book 2
Leap Back to the Main Book List
Edit
Ad blocker interference detected!
Wikia is a free-to-use site that makes money from advertising. We have a modified experience for viewers using ad blockers

Wikia is not accessible if you've made further modifications. Remove the custom ad blocker rule(s) and the page will load as expected.